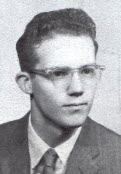 Thomas Rodney Reynolds
June 2, 1940 - May 5, 1985
Thomas Rodney Reynolds was born in Detroit on Sunday, June 2,1940 at Florence Crittenton Hospital to Marie Vivian (nee Brownlee) Lau from Redding, California, and John Rodney Reynolds from Calumet, Michigan.
His father passed away in 1954, at 39 years of age, from rheumatic heart disease. At 14, Tom became a paper carrier for the Detroit News and took on the role of big brother and father to his little brother John, six years his junior.
After graduating from Redford High School in January,1959, Tom attended Highland Park Junior College and obtained an Associate Degree in Business Administration. At the same time he worked his way up to District Sales Manager for the Detroit News.
In addition, Tom continued to pursue his interest in music and acting. He started playing piano at age seven and enjoyed entertaining his family on his Hamilton-Baldwin upright piano in their living room on Huntington Road in Detroit. Tom was also an actor at the Northland Playhouse, located in Southfield, Michigan. The Playhouse was a dome shaped structure that featured both Hollywood and local talent. A couple of the plays Tom performed in included actors Clint Walker, from the TV Series "Cheyenne", and Dwayne Hickman from the teenage TV Series "Dobie Gillis".
Building on his sales experience with the Detroit News, Tom went to work for American Optical Company, where he was their Detroit Sales Manager. After leaving American Optical Tom worked for Sedgwick Opticians in Birmingham, Michigan as an Optician.
Tom was a member of the 127th Wing Air National Guard located at Selfridge Air Base in Harrison Township, Michigan, where he served until his Honorable Discharge in April of 1968.
Tom was married to Jacqueline Turco in May of 1965, and they lived in Royal Oak. Tom and Jackie were divorced in 1981. They did not have any children. After a long illness, Tom went to live with his mother and stepfather in West Bend, Wisconsin, where he passed away of respiratory failure on May 5, 1985 at the age of 44.
Thomas Rodney Reynolds will always be loved and remembered by his friends and family. He loved the Detroit Lions, reading, his 1956 Baby Blue Ford Convertible, and traveling with his family. He was a member of the Fifth Avenue United Methodist Church in West Bend, Wisconsin.
Tom is survived by his brother John (Janice) Reynolds of Wolverine Lake, Michigan, and his sister, JoAnne Marie (Edward) Cline of Prescott, Michigan. Tom was preceded in death by his father, John Reynolds who passed on August 24, 1954 at age 39. Tom's mother, Marie Reynolds passed on June 15, 2008 at age 95, and his nephew, John "Chip" Reynolds passed on August 4, 1994 at age 27.