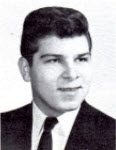 On Feb 26, 2013, at 7:27 PM, "TMCooleyweb@aol.com" wrote:


I noticed on the redford59 site that you are looking for Charles Patreka. I am a good friend of his step-daughters (we grew up together). Chuck passed away a few years ago. He had cancer and died peacefully at home with his family around him. Just thought I'd let you know.

Tributes.com

: Charles was born on April 1, 1941 and passed away on Tuesday, April 26, 2011.

Charles was a resident of Lapeer, Michigan.