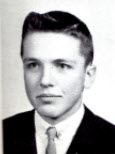 A Celebration of Life: James Robert Micheau
April 10, 1940 – March 28, 2013
Jim's family would like to acknowledge with deep appreciation the many expressions of love, concern and kindness shown during this time of bereavement. We are especially grateful to Mesa Elder Care and Hospice of the Southwest for their loving care during his short illness. Memorials may be directed to Mesa Elder Care.
James Robert Micheau, 72, was born April 10, 1940 at Kingsford, Michigan to Antone and Martha Jonson Micheau. Jim grew up in Detroit and graduated from Redford High School. He was a graduate of Sales Training Institute, Detroit. Jim was the definition of a self-made man. His natural charisma and go-getter attitude took him far in his several sales-related positions. In the 1960s he joined Stanley Corporation's Jed Products Division, sellers and servicers of automatic doors. He took his family through job transfers to Chicago and then to Des Moines, Iowa. In 1978 he purchased Selvig Aluminum of Mesa AZ, a distributor for Horton Automatics. There he began his ultimate career as business owner. He changed his company's name to Automatic Entrances of Arizona, then later to Smart Doors.
Jim was a hands-on owner, involved in the daily activities of selling and servicing automatic doors for grocery stores, hospitals, and factories. He thought of his company as a provider of good paying jobs. His work was his life. In his time off Jim enjoyed history, travel, golf, and socializing with family and friends. He visited all 50 states and took many pictures. He was a loyal Arizona Diamondbacks fan.
He loved to read about the Native American Southwest, including every Tony Hillerman novel. He was Charter resident of the Chicagoland Corvair Enthusiasts (1968) and a US Golf Association Member.
Jim left this earth on March 28, 2013. He is preceded in death by father Antone and brother Bill. Jim is survived by his mother Martha, 101 years old in Mesa; sister Marilyne; daughter Suzanne (Jim Miller) of Kalona, Iowa; son Chris (Kimberly) of Phoenix; grandchildren Valerie, Eric & Alyson; special family members Diana Micheau, John and Staci Hollowell, their children Johnny and Lily, Jay & Jill Davis, their daughter Bailey & grandson Brody and Corrina Pastrano.