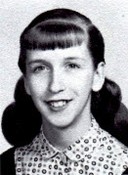 Alice Elaine (Lagg) Bottorff
October 28, 1940 - January 12, 2018
Alice Elaine (Lagg) Bottorff passed away on January 12, 2018 while a resident of the Autumn Woods Nursing Center in Livonia, Michigan.
Alice, a January, 1959 graduate of Redford High School, Detroit, was the beloved wife of Martin L. Bottorff, whom she married on December 11, 1977. They raised four children, who all survive. Alice and Martin were married for almost 40 years before his passing on November 12, 2017.
Alice is survived by four children: Alice LaVonne "Vonnie" (Ron) Amic of Jacksonville, Florida; Peggy Sue (Duncan) Ogilvie of Livonia, Michigan; James Henry (Michelle) Hale of Texas and Amy Jo (Mark) Mathews of Jacksonville, Florida. In addition, she is survived by numerous children and grandchildren.
Alice was cremated, at her request. No services were held.
.