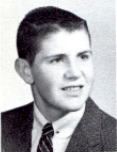 Obituary, Wednesday, September 26, 2001, The Montgomery Tribune
LOWELL H. "CHARLEY" BROWN
Lowell H. "Charley" Brown, 61, owner and resident of Charley's Landing on Fletcher's Floodwater, Hillman, MI, passed away Sept. 15, 2001, peacefully at home with his wife by his side.
Mr. Brown was born July 18, 1940 to Leland and Murial (Moore) Brown in Detroit. Lowell owned several industrial insulation companies and spent most of his years in Fowlerville, MI until buying Charley's Landing on Fletcher Floodwater in 1989.
Lowell was an avid outdoorsman. For many years he raised and competed German shorthair pointers, winning many trophies and having a field champion dog. His passion for hunting and fishing was a perfect match with his resort, letting him share his knowledge with all who passed through his landing.
Surviving are his wife, Jaynee; three sons, Mark, David, and Steve; one stepdaughter, Alisha; three grandchildren, Chad, Jeremy, and Trent Charlie; his father, Leland; one brother, Mark; one sister, Janet (Scott) Martin; mothers of his children, Nancy Brown and Frances Wright; many nieces and nephews.
Cremation has taken place. A memorial service was held Sept. 22 at Bannan Funeral Home in Hillman with Reverend Tad Martin officiating.