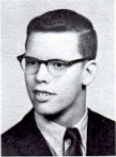 Phillip Bebb: 'loveable, loving, loved'
Oct. 22, 2007-Ohio University Outlook, By Jessica Alfrey
A slow train of visitors exchanged kind smiles, strong handshakes and long embraces with one another and family members as they waited to enter Athens' First United Methodist Church for a Saturday memorial service honoring Phillip Bebb.
The 66-year-old Ohio University associate professor of history died Sept. 24 in his Athens home.
Close to 200 friends, colleagues and students attended Saturday's service to remember the man who, in his wife's words, "took great pleasure in others' happiness." Pastor Colin Yuckman, sharing remarks prepared by Susan West, called Bebb a "lover of life and people" who enjoyed cooking and entertaining.
Despite his time in larger cities, Bebb acquired in his 38 years here a "great love of the natural beauty of Athens," Yuckman said. And he was an enthusiastic fan of Ohio University sports.
Jim Bebb called his brother an unlikely Athenian, having been raised in Detroit and settling in Columbus while pursuing his doctorate. He thanked the Ohio University community for "accepting a displaced Michigan Wolverine, who never became a Buckeye, but certainly was a Bobcat."
He noted Bebb's passion for the Italian Renaissance and, in particular, his fondness for Michelangelo. A quote by the famous Italian sculptor, painter, architect and poet fit his brother perfectly: "I am still learning."
Bebb's son Aaron remembered the goodness of his father's heart.
"When no one else would believe in me, he would; when no one else would trust me, he would," Aaron Bebb said.
All who spoke remembered Bebb as committed to his work in the classroom, a connection he maintained by teaching at least one quarter a year after taking early retirement in 2004. He taught, among other courses, Italian Renaissance, Northern Renaissance, Intellectual History of the Italian Renaissance and Great Figures in Florence as well as specialized courses on Michelangelo and Machiavelli. He directed the department's history tutorial program for almost 30 years.
Professor Emeritus of History Charles Alexander, a longtime friend and colleague, recalled Bebb's always-cheery nature and genuine joy in the people around him. In a fitting closing, he said, "If I had to write his epitaph, I would do it in just three words: loveable, loving, loved."
Donations may be made to the National Alliance on Mental Illness (www.namiohio.org) or the Phillip Bebb Memorial Fund in the College of Arts and Sciences (www.ohio.edu/foundation/gift.cfm).