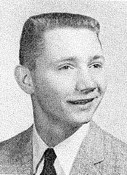 To: Jim Whitledge
J
ul 22, 2014 at 12:34

PM
Jim,
It is with heavy heart and great sadness I inform you of my brother George's (George Soper class of 1959) passing this past winter in Summerfield Fl.
I am having his mail forwarded to my home in Sterling Height MI and received your notification for him about the upcoming reunion. After being cancer free for 20+ years the cancer made a very aggressive and fateful return, after about 10-days in the hospital and 10-days in hospice he passed away with his remaining family by his side on February 19, 2014. Today would have been his 73rd birthday.
Please feel free to share our loss with others from his class, I know he had many friends and still kept in touch with a few.
Sincerely,
Linda (Soper) Hunkele