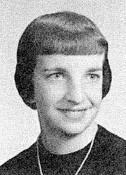 SUZANNE GASNIER DOLLARD
June 26, 1941-March 25, 2008
Suzanne Gasnier Dollard, 66, of Chula Vista died March 25. She was born in Detroit and was a registered nurse.
Survivors include her son, Keith Dollard.
Services: 11 a.m. tomorrow, Glen Abbey Memorial Park, 3838 Bonita Road, Bonita.
Donations: San Diego Hospice, 4311 Third Ave., San Diego, CA 92103-1407; or First United Church of Chula Vista, 925 Paseo Ranchero, Chula Vista, CA 91910.
Arrangements: Community Mortuary.