Redford High School
All-Alumni 14th Annual Golf Outing and Dinner
Friday, June 9, 2017, at Whitmore Lake Golf Links
(To keep costs low, this is an "at-cost" event - not a fundraiser)
Whitmore Lake Golf Links is located at 1111 W. Six Mile Rd, Whitmore Lake, MI 48189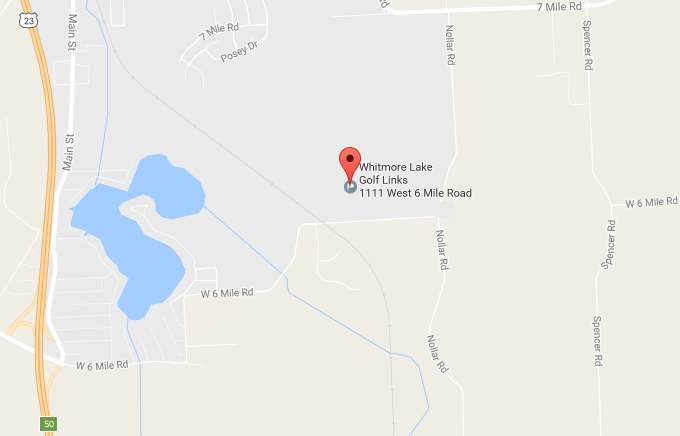 Directions: https://goo.gl/maps/WGrRSnoZPd82
The golf format is a four-person scramble. If you have a foursome, please put your group together and send all payments together with the registration form, in one envelope. If you don't have a foursome, let us know and we can pair you up.
Golf registration begins at 9:30 am with a shotgun start at 11:00 am.
Cocktails commence at 4:00 pm (cash bar) and dinner starts around 5:00 pm.
The "dinner only" option is $25.00.
Cost of the outing is $75. Checks only, please. No credit card payments. All payment and registrations must be in before June 1st.
The $75 "golf package" includes the 18-hole scramble with cart, range balls, morning coffee, continental breakfast, free draft beer at the turn, lunch (hamburger or hot dog or polish, with chips and soft drink or draft beer), buffet dinner and prizes. All alcoholic beverages can be purchased from the golf course cart person or at the bar.
This year we will have 2 additional divisions, beside the teams made up of All Alumni and friends…..
All women teams and All Over 75 teams (all members of the team must be 75 by June 9, 2017). There must have a minimum of 3 teams in each of these divisions in order to compete in their division.
If you have any questions, please contact one of the following committee members:
Frank Godwin 517-230-6605, Carol Klausing 248-762-1047, Barrie Armstrong 248-477-0626,
Chuck Childress 248-596-0258, Chuck Rever 248-821-0204, Dave Gibson 313-535-3288
Help us make this a great event by spreading the word and
please, save us phone calls and expense by registering early.
If you have an email but are not already on the email list, please send an email address to cklausing@mi.rr.com, to be added to our list. Put "RHS Golf" in the subject line and be sure to include your name. Your info will be kept completely confidential.
If you do not have access to email, please let us know. We will use the USPS for your invitation. Please call Frank 517-230-6605 or Carol 248-762-1047, to get on the regular mail list if you do not have email access.
REDFORD HIGH SCHOOL
2017 Alumni Golf Registration Form
Costs for this year are:
Golf & Dinner: $75 per person (There is no "golf only" package)
Dinner only: $25
Please mail this form along with your check made out to: RHS Alumni Golf Outing
to:
Carol Klausing
30704 Ardmore Ct
Novi, MI 48377
Golfers: If possible, please put your foursome together and send all the payments together with this form. It is preferred that you put your own foursome together. However, if you are a single or a partial foursome, we will complete your foursome with other partial registrants as they become available.
Please indicate your choice for lunch (hamburger or hot dog or Polish sausage).
Player #1
Name (Graduation Date) Phone # Address e-mail address (lunch choice)
__________________________________________________________________________
Player #2
Name (Graduation Date) Phone # Address e-mail address (lunch choice)
___________________________________________________________________________
Player #3
Name (Graduation Date) Phone # Address e-mail address (lunch choice)
_______________________________________________________________________________________
Player #4
Name (Graduation Date) Phone # Address e-mail address (lunch choice)
__________________________________________________________________________
Dinner Only Attendees: ($25 each)
Name__________________________________________________________________________________________
Name (Graduation Date) Phone # Address e-mail address
Name__________________________________________________________________________________________
Name (Graduation Date) Phone # Address e-mail address
Name__________________________________________________________________________________________
Name (Graduation Date) Phone # Address e-mail address
Total amount submitted $__________________________